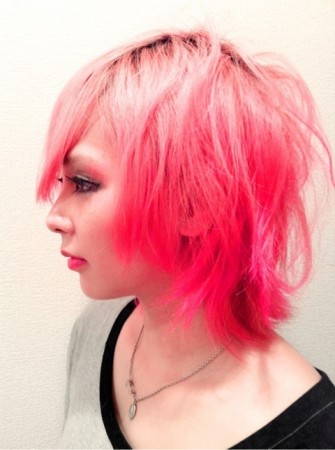 Bonne nouvelle pour tous les fans d'Aya Kamiki, son concert, le
AYA KAMIKI LIVE 2011 ~THE FINAL JOURNEY~
prévu pour le
11 Novembre
à ASTRO HALL affiche
SOLD OUT
depuis déjà la fin du mois dernier ! D'ailleurs Aya en a profité ces derniers jours pour se teindre les cheveux en rose (cf la photo accompagnant cette news).
GIZA studio va publié le
14 Décembre 2011
une autre compilation, celle-ci regroupera toutes les chansons issus de l'anime de Détective Conan de l'été 2008 à aujourd'hui ! Ainsi souvenez vous sur la compilation THE BEST OF DETECTIVE CONAN 3 nous avons pu retrouver
Mou Kimi Dake wo Hanashitari wa Shinai
et cette fois-ci sur cette nouvelle compilation ce sera au tour de
Summer Memories
d'y figurer. La compilation intitulé simplement THE BEST OF DETECTIVE CONAN 4 sera disponible en deux éditions 2CDs ou 2CDs+DVD. Sur le DVD on retrouvera les opening/ending de l'anime sans les crédits.
Tracklist:
Disc 1
1. Don't Wanna Lie / B'z
2. Over Drive / GARNET CROW
3. PUZZLE / Kuraki Mai
4. Ichibyou Goto ni Love for you / Kuraki Mai
5. Mysterious / Naifu
6. Revive / Kuraki Mai
7. Everlasting Luv / BREAKERZ
8. MAGIC / Aiuchi Rina
9. As the Dew / GARNET CROW
10. SUMMER TIME GONE / Kuraki Mai
11. tears drops / Caos Caos Caos
Disc 2
1. Summer Memories / Kamiki Aya
2. GO YOUR OWN WAY / Shizukusa Yumi
3. Koigokoro Kagayaki Nagara / Naifu
4. Doing all right / GARNET CROW
5. Hikari / BREAKERZ
6. Hello Mr. my yesterday / Hundred Percent Free
7. Tomorrow is the last Time / Kuraki Mai
8. Jyuugoya Crisis ~Kimi ni Aitai~ / Hundred Percent Free
9. Tsukiyo no Itazura no Mahou / BREAKERZ
Pré-commander la compilation : 2 CDs - 2 CDs+DVD